If you are a US citizen and you want to marry a foreign national, you may be eligible to apply for a K-1 Fiancé(e) visa.
Unlike other visas, the beneficiary cannot self-petition. The fiancé(e) who is a US citizen must be the one who requests it from the government on behalf of the beneficiary. Our immigration lawyers in New Jersey are experts in providing legal advice on any type of American visa. Call today and get a private consultation regarding your case.
What You Need To Know About The K-1 Fiancé(E) visa In 2023
The K-1 Fiancé(e) visa is a type of nonimmigrant visa that allows a foreign national to legally enter the United States and marry a US citizen within a period not exceeding 90 days.
After the new foreign spouse has married their US citizen partner, they will be able to get a Green Card through adjustment of status in the United States.
If all other immigration requirements are met, a same-sex engagement will be treated like any other K-1 fiancé(e) visa application and must also meet all of its standards. In other words, same-sex couples are eligible for the same immigration benefits as opposite-sex couples.
What Is Considered a Fiancé(e) For United States Immigration Laws?
U.S. immigration laws consider a fiancé(e) to be foreign citizens who obtained a K-1 fiancé(e) visa with the purpose of entering the United States to marry their US citizen partner.
What Is Needed For The K-1 Visa?
The necessary requirements to process the K-1 visa are the following:
Be an American citizen.
Be legally free to marry your fiancé(e). The foreign fiancé(e) must also be legally free and any previous marriages must have been legally terminated by divorce, annulment or widowhood.
Intend to marry your fiancé(e) within 90 days of the fiancé(e)'s admission to the U.S.
Have met your foreign fiancé(e) in person at least once within the last 2 years. This requirement may be waived if it is shown that:

Meeting in person violates the customs of your fiancé(e)'s foreign culture. OR;
Meeting in person implies a really difficult situation for the American citizen applicant.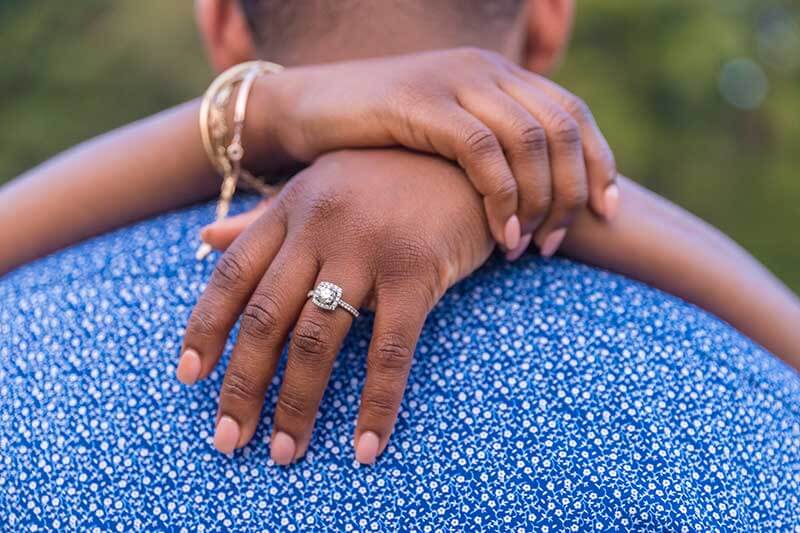 What Documents Do I Need To Bring To The Interview To Apply For The K-1 Visa?
The beneficiary of a K-1 visa must bring the following documents to the interview:
Form DS-160 completed by both the fiancé(e) and their children (if any).
Valid passport with a validity of no less than 6 months.
Divorce or death certificate, in case the foreign fiancé(e) has been previously married.
Two 2×2 inch photographs.
Evidence of your relationship with your US citizen fiancé(e).
Criminal record letter from your country of origin and from any other country where you have lived in the last 6 months.
Payment of fees for the necessary procedures.
Note that you may need Form I-601, Application for Waiver of Grounds of Inadmissibility if there are grounds of inadmissibility. Review our section on immigration waivers for more information.
How To Apply For The K-1 Fiancé(E) Visa?
The process for applying for the K-1 visa involves the United States Citizenship and Immigration Services (USCIS), the US Department of State (DoS), and Customs and Border Protection (CBP). Therefore, at each stage of the process, several security controls are carried out.
Step One: File The Fiancé(E) Petition With USCIS
File Form I-129F, Petition for Alien Fiancé(e), at one of the USCIS offices.
Wait for notification from USCIS. If additional documentation is required, USCIS will send you a notification by mail.
If eligible, your Form I-129F will be approved. Otherwise, it will be denied and USCIS will inform you of the reasons for the denial.
If the I-129F is approved, USCIS will send it to the National Visa Center (NVC).
Second Step: The Visa Application To DoS
NVC will forward the approved I-129F to the US consulate or embassy where your fiancé(e) can apply for the K-1 visa.
Wait for notification of your fiancé(e)'s scheduled interview from the US consulate or embassy.
Your fiancé(e) must bring the required form and documents to the visa interview.
Step Three: Inspection By CBP
Even if the K-1 visa is approved, it does not mean that your fiancé(e) is guaranteed entry to the United States. CBP will determine who can enter and who cannot. In the event that the officer in charge detects suspicious behavior, they may deny you entry.
These immigration control measures are to prevent any type of irregularities that break US laws. You can visit our article of interest on the requirements to legally enter the United States.
How Do I Apply For Permanent Residence If I Entered The US On A Fiancé(e) Visa?
If you married your U.S. citizen fiancé(e) within 90 business days, you may apply for a Green Card through Form I-485, Application to Register Permanent Residence or Adjust Status.
USCIS will review Form I-485 and any other documents submitted. Generally, both you and your spouse must be present at the interview.
If the I-485 is approved and you were married for less than 2 years, USCIS will grant the foreign spouse conditional permanent residence where they will obtain a Green Card valid for 2 years.
To remove the conditional residence, the foreign spouse must file Form I-751, Petition to Remove Conditions on Residence within 90 days before the Green Card expires. Failure to do so puts the foreign spouse at risk of being deported from the US.
Considerations To Take Into Account
K-2 nonimmigrant children must apply for a Green Card at the same time or after the foreign fiancé(e) does.
After 5 years of obtaining lawful permanent residence in the United States, the foreign fiancé(e) may be eligible to obtain US citizenship.
The foreign fiancé(e) will not be able to adjust status from a K-1 visa to a Green Card through marriage if they marry someone other than the U.S. citizen fiancé(e) (a) who submitted the sponsorship application.
Interview To Obtain Permanent Residence By Marriage
In order for you to obtain lawful permanent residence, an official at a US embassy or consulate will ask you a series of marriage-based Green Card interview questions that will assess whether your marriage is bona fide and not fraudulent.
What Happens If I Enter The United States On A K-1 Visa And Do Not Get Married Within 90 Days?
The K-1 fiancé(e) visa of a US citizen will only be valid for 90 days. If you do not marry your US citizen fiancé(e) within that time, you could be at risk of facing deportation from the country.
However, if the marriage takes place after 90 days, you may be able to keep your immigration rights. In order to do this, you need to file Form I-130, Petition for Alien Relative, and be able to petition for your spouse through a relative petition.
Can The Duration Of The K-1 Visa Be Extended?
K-1 nonimmigrant status will automatically expire 90 days after you were granted entry to the U.S. This visa cannot be extended and you must depart the United States if you do not marry within the specified period of time.
If you stay in the United States after 90 days, you will break immigration laws and may be deported. Also, it could affect your eligibility for future immigration benefits in the US.
Please note that the K-1 visa does not allow a change to another temporary visa, such as the F-1 student visa, H-1B or other visas.
Can The K-1 Visa Be Denied?
Obtaining a K-1 visa is not guaranteed, so it may be denied if your foreign fiancé(e) is not eligible for the visa. This can be due to many causes, whether it is a criminal record that includes drug trafficking, human trafficking and smuggling or any other offense in both immigration and criminal law. There is a term for offenses affection both areas of law called "Crimmigration".
In the event that your US Citizen K-1 fiancé(e) visa is denied, you may be able to appeal the decision. We explain how to do this and the resources available in our article: Appeal immigration decision.
How Much Do The K-1 Visa Procedures Cost?
The actual cost as of the article date for a K-1 visa can range from $1,000 to $5,000. Included in the cost are all government fees, legal assistance, medical exams, and any additional documents requested by USCIS.
These fees include the following:
Government fees: Can range from $800.
USCIS filing fee: $535.
Embassy or consulate fee: $265.
Medical exams: Between $100 and $500.
Travel expense: Varies by country and flight.
Legal Assistance: Varies depending on your situation. Our Latina attorney Carolina T. Curbelo has more than 10 years of experience and can study your case in detail to find out what is necessary in your situation.
Other costs to consider include:
Passport. If you, as the fiancé(e) of a US citizen, do not have a passport, you must acquire a new one.
Costs for acquiring additional proof. If you need to find proof of previous divorces, bank statements, birth certificates or other documents, this may incur an additional cost.
Medical examinations of children.
Photographs.
How Long Does It Take To Process The Fiancé(e) Visa?
Generally, the time it takes to process a K-1 fiancé(e) visa is about 4-6 months from the date of filing. However, if USCIS has suspicions about the couple's relationship, it may require additional evidence, which will increase the length of the process.
What Are The Engaged Fiancé(e) Visas?
As we have seen throughout the article, the K-1 visa is the one granted exclusively to fiancés of an American citizen. However, there is also a K-2 visa for children of fiancés.
This K-2 visa allows unmarried children under the age of 21 of a fiancé(e) to legally enter the US until they are granted an immigrant visa.
Under this visa, the children will be able to go to school or even work. As long as they have an Employment Authorization Document (EAD). Please note that both the K-1 and K-2 visas are non-renewable visas. Therefore, they cannot be extended and their duration is only of 90 days.
Remember that recipients of a K-1 visa cannot work in the US, their sole purpose is to marry within the time frame allowed by the law.
K-3 And K-4 Visas
K-3 and K-4 visas are non-immigrant visas that allow spouses and their children to obtain visas to enter the US while they wait for USCIS to make a decision on Form I-130. The purpose of these visas is to prevent a US citizen and their family from being separated while they await a response to their application.
Previously, couples had to wait a considerable length of time for USCIS to make a decision on Form I-130. Because of this, Congress sought a solution to this problem, which was the creation of the K-3 visa for foreign spouses and the K-4 visa for the sons and daughters of the spouse.
USCIS now takes less time to review Form I-130, so it is no longer common for K-3 and K-4 visas to be issued.
Should My Children Travel With Me?
Your children can travel with you as companions, as long as they are eligible for the K-2 visa. Separate petitions are not necessary if your children are accompanied by you or join you within 1 year from the date the K-1 visa was issued.
In the event that your children wish to travel after one year from the date the K-1 visa was issued, they will not be eligible to receive the K-2 visa. If you have already adjusted status and become a permanent resident, your child can travel on a K-2 visa as long as it is valid.
If your children did not leave with you during the indicated time, it is possible that when you become a legal permanent resident or US citizen, you may be able to petition to bring your children through a family petition. We tell you everything you need to know in our article: " How to bring my son to the United States".
Do I Need The Help Of An Attorney To Apply For The K-1 Visa?
Having an immigration attorney by your side can be really helpful throughout the process of applying for the K-1 visa. This is because you need to review the forms and documents submitted to avoid making any mistakes.
Under US law, there is no law requiring you to hire an attorney to apply for a K-1 visa. However, an immigration attorney like Carolina T. Curbelo will know what kind of steps and process you will need to follow and will save you an arduous documentation process while giving you the peace of mind that you will not make any mistakes in the application.
Contact our law firm today, the offices are located in Ridgewood and Newark, New Jersey and we can also serve you virtually.