Are you wondering how can an illegal immigrant become legal in the U. S. and therefore, how to get legal status in the USA. In this dedicated article you will find all the necessary information.
In order for you to become legal in the United States, you will need the guidance of our immigration lawyers in New Jersey. The Curbelo Law firm has over 10 years of experience in all types of immigration cases.
Call today and get a private consultation with one of our specialists in these types of cases.
What If I Am an Illegal immigrant In The USA In 2023 And I Want To Become Legal?
Undocumented or illegal immigrants are those who enter the United States illegally without an approval or authorization by the United States immigration authorities. If you entered the United States on a visa (such as a B-1 business visitor visa or a B-2 tourist visa) and you stay longer than allowed, you may also be considered an illegal immigrant.
If you want more information about these types of visas and others, we invite you to check our article on the different types of American visas. This will help you further understand the requirements of an illegal immigrant that wants to become legal in the United States.
There are other circumstances in which you may become illegal in the US. Regardless of the reasons behind you being illegal, you would face the same penalties.
Depending on how long you have been in the US illegally, you will accumulate illegal presence, increasing your punishment. The most common punishments are:
If you leave the country, you can receive a sentence of 3 to 10 years to return to the United States.
If you were in the country illegally for 180 days to 1 year, you could face a 3-year sentence without being able to return to the US.
If you were in the country illegally for more than 1 year, then you will receive a 10-year penalty for reentering.
If you are under this situation, knowing how to request a waiver of inadmissibility to the United States is key. However, immigration waivers are not available to all types of people and on some occasions they can be rejected. Knowing how to appeal an immigration case will also help you act in the event of a possible denial.
Immigrants Who Entered The United States Illegally
US immigration laws offer very few options for an undocumented immigrant to go from illegal to legal lawful permanent resident (Green Card holder).
This type of procedure tends to be more difficult for those who have crossed the border without any type of documentation or inspection.
Immigrants in these circumstances will not be able to apply for a Green Card at a USCIS office.
Applicants will generally have no choice but to leave the US and apply for an immigrant visa and a Green Card at an American consulate abroad. That is, through the consular process.
Keep in mind that not only those who entered the country without documents will be considered illegal. Also those who stayed in the US with an unauthorized visa for it. An example could be an expired tourist visa.
Dangers Of Leaving The US For Consular Processing
If an immigrant entered the US illegally and has lived without any type of document for 6 months or more, going through consular processing will not guarantee obtaining a Green Card. What's more, this could lead to a 10-year sentence without being able to return to the United States.
It all depends on the time of illegal stay in the US. The consulate may reject your immigrant visa as you may be considered inadmissible.
If the immigrant leaves the country, they will be subject to penalties for their illegal membership, even if they otherwise qualify for a Green Card.
Know the requirements to legally enter the United States and thus avoid penalties for illegal presence.
Becoming Legal Through Adjustment Of Status
Regardless of how you entered the United States, you may become eligible for adjustment of status by initiating your residency application process.
Eligible immigrants may apply to adjust their status if a family member or employer filed an application or petition on their behalf.
We invite you to obtain more information on everything related to family-based immigration in the US to learn about the types of steps or processes to achieve this type of adjustment. The Latin lawyer Carolina T. Curbelo will be able to help you throughout this process in the most appropriate and professional way possible.
What Is Considered Illegal Entry Into The United States?
Foreign persons who do not have available legal means to prove their entry are considered illegals in the United States. This generally includes:
An individual who enters or attempts to enter the United States avoiding any type of inspection by border immigration officers.
An individual who enters or attempts to enter the United States by lying, submitting false documents, or directly without submitting any document at all.
The penalties an immigrant would receive for trying to enter the US without documents depend on how many times they tried to enter without permits, inspections, or other documents.
Other cases in which an illegal entry to the United States is present is when there is some type of crime such as human trafficking or smuggling (T visa). For the latter type of situations it is impossible to get a waiver exemption.
For more information, visit our related article on what is human trafficking and migrant smuggling and our section on crimmigration.
Illegal Re-Entry Into The United States
If a foreign national is deported from the country, it will be a felony to re-enter the United States as long as it does not have government approval.
What Is Illegal Re-Entry Into The United States?
It consists of re-entering the United States without any type of approval from the United States government, subsequently to:
Being deported from the country.
Obtained a rejection or denial upon entry to the United States.
Leaving the U.S. with an order of deportation, removal, or exclusion.
Be removed from the U.S.
Be excluded from the country.
Penalties For Illegal Re-Entry Into The US
According to federal immigration laws, illegal re-entry into the United States can be punished with the following penalties:
Jail sentence of up to 2 years.
Fines
These penalties may be joint or separate and you will be entitled to have an immigration bond paid if you apply.
Penalties For Illegal Reentry For those With A Criminal Record
If the foreign immigrant enters the United States without the approval of the United States government and has a history of criminal offenses, either for a misdemeanor or a felony, they will be awarded a punishment of:
Jail for a maximum of 10 years.
Fines
Prison sentences can last up to 20 years in such case of having committed serious crimes.
Ways An Illegal Immigrant Can Become Legal In The U. S.
Generally, undocumented immigrants will be able to obtain an amnesty that will allow them to stay legally in the US. The two most popular types of amnesty for the undocumented are:
Asylum.
Temporary protected status.
However, there are more ways that an undocumented person can obtain a Green Card. Next, we will see in more detail this type of immigration relief and how to become eligible for this type of alternatives.
Political Asylum In The United States
If you are eligible to apply for political asylum in the United States, you will be able to obtain a legal permanent residence. To qualify for this amnesty, you must prove that you are being persecuted in your home country.
Generally, you will be able to get political asylum if you are persecuted for:
Race.
Nationality.
Politic party.
Religion.
Social group.
You should be aware that the US sets a limit on the number of applicants who apply for asylum. Applicants must be evaluated to determine their persecution in the country of origin.
All asylum seekers are usually people who are within the country and fear having to return to their country of origin for fear of suffering some kind of consequence.
If an immigrant does not qualify as an asylee or refugee, it is due to the economic situations that his country possesses. Applicants are generally required by law to apply for asylum for at least 1 year after entering the United States.
You may also be interested in learning about the NACARA program .
Temporary Protected Status
You should bear in mind that a TPS status in the USA does not lead you to obtain a Green Card and it will only be valid for 18 months. However, you can still receive a work permit as long as you obtain TPS.
Visit our related article on how to get a job in the United States while being illegal.
In case you are a minor and are suffering domestic violence or abuse against you, check the special juvenile immigrant status.
If you are a woman and a victim of domestic violence, knowing what the VAWA visa is could allow you to obtain protection against deportation proceedings.
U Visa For Crime Victims
If you are a victim of certain crimes or abuses, you can get help from the US government. Knowing what the U visa is in these cases is of vital importance.
To obtain the U visa you must meet the following requirements:
Having been the victim of any abuse or a qualified crime.
Possess information about any criminal activity.
You can be useful to help solve some type of criminal process.
Marriage To An American Citizen
If you wonder: Can I marry an American citizen? In some cases filed, you can get to marry a US citizen and obtain "immediate relative" status.
This makes you immediately eligible for a Green Card but you will need to keep the following in mind:
Please note that the option to marry an American citizen is only available to those who entered the US legally, if you entered the US illegally, your chances of getting married are very low.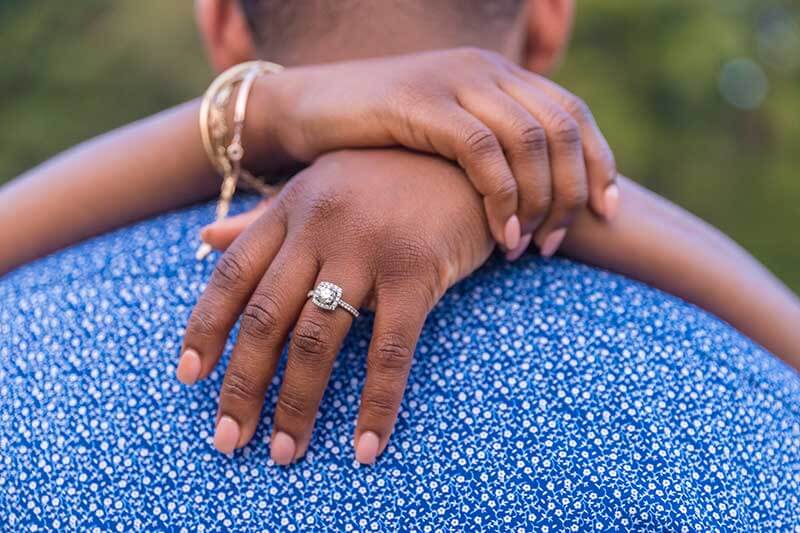 Prior Service In The U.S. Military To Become Legal
If you still wonder how can an illegal immigrant become legal in the U. S. one of the routes to obtain the legal permanent residence is through the American military service.
Those people who are current or former members of the American military service, can get help on some occasions. Even if they are undocumented.
If you have served in a particular military conflict while in the US, you may be able to obtain the right to stay in the country and receive your Green Card immediately.
An example of this route were those undocumented immigrants who enlisted in the US military and served in the following conflicts:
The Korean War.
The Vietnam war.
The Persian Gulf War.
In Operation Enduring Freedom in Afghanistan.
Perhaps your ultimate goal is to understand the process to obtain American citizenship. You may be interested in reading about military parole in place program that provides benefits to military families.
Under The Protection Of The LIFE Law
The Legal Immigration Family Equity Act (LIFE) in the United States allows "Dreamers" additional benefits in their protection during their stay in the United States.
If you are an undocumented immigrant who came to the U.S. as a child, knowing the DACA application requirements for the first time will help you obtain the protection of Deferred Action for Childhood Arrivals (DACA).
Those undocumented immigrants who have a good level of education and are classified as "Dreamers", will be able to obtain a Green Card if they have an employer sponsor willing to request a petition on their behalf.
To obtain this DACA permit, the employer must go through a step-by-step PERM Labor Certification process . You must bear in mind that even at the end of the process, the immigrant will still have to carry out other processes to obtain the Green Card.
Cancellation Of Removal
On some occasions, an undocumented immigrant may be at risk of being deported from the country. Fortunately, there are several programs that help you obtain a cancellation of removal.
You should be aware that cancellation of removal is not available to everyone, so it is necessary to know if you qualify for it. Review our specific section on the subject to learn more about this immigration relief.
Diversity visa Lottery
If you are one of the people who does not qualify to immigrate to the US under the labor, humanitarian or family petitions programs, you still have a legal opportunity to obtain a Green Card.
In the United States, there is an annual diversity visa program where it has at least approximately 50,000 Green Cards for those immigrants who wish to live in the country.
It should be noted that this lottery is only available for countries with a low immigration rate to the US. Countries with a high immigration rate, such as Mexico or China, will not be able to apply for this lottery.
In order to qualify for this visa lottery, participants must have:
A completed secondary education.
At least 2 years of work experience in any job.
Since many people apply annually for this visa lottery program, the chances of obtaining one will be less and less.
Law firm that helps you To Obtain Legality In The United States
We have already seen that anyone who asks himself: How can an illegal immigrant become legal in the U. S.? Needs to have immigration lawyers on their side.
At the Curbelo Law firm in New Jersey you will be able to find all the possible help regarding this type of immigration situation. We have more than 10 years of experience helping undocumented immigrants become legal on US grounds.
If you are an illegal immigrant and want to become legal, call us and get a private consultation where we will analyze your case and detail the steps to follow.